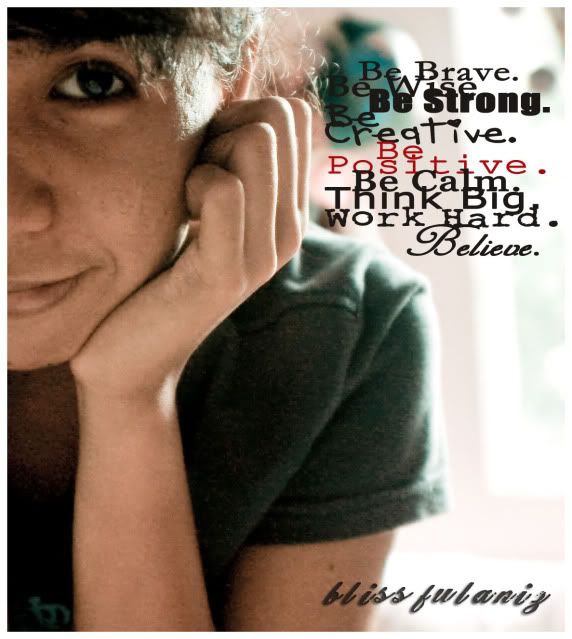 "You must see yourself happy if happiness is the state you are seeking."
This is what i often do when i *ehem* when i feel unstable, or feeling down. :) hehe. Get a book, write a rhythm or poem, listen to my playlist, or hv a walk alone. But most of the time, i'll spend time with any interesting books and my playlist. It work on me somehow. Ah tp reality is, knowledge can be useless without we apply it in a real world. Like what i read in

Yoga Of Wealth

which stated,
"You can hv perfect awareness and strong self-belief, but if you still cannot bring yourself to act when your chances comes, you will never move forward in your life. Stagnate in all of your knowledge."

It's true. I am one of it who always miss a chance when the right time comes. Sometimes we tend to think too much, act less. Speak more, progression zero. Typical isn't it? I must improve. Aniz, sila beri konsentrasi. Sila back on tracks. Tolong fokus. *breath in, breath out* Okeh ! Sy mau tido dulu. lol. Tmrw is a new day. I hope everythng's gonna be fine and better.

Oh i shall share with you this. Life is complete when you complete it, when you find that 'thing' to complete it. Mcm comel kan ayat tu? hehe. And what is that 'thing'? You need to find it. :) Ah my pillow is missing me. :P Good Night everyone !
love.